SERVICE LIGHT RESET NISSAN NAVARA
Simple tutorial (With Image) on how to reset the Service Light (Oil Reset) Wrench Spanner light on Nissan Navara (D22-D40-D23) from year 1997-1998-1999-2000-2001-2002-2003-2004-2005-2006-2007-2008-2009-2010-2011-2012-2013-2014-2015-2016-2017-2018-2019-2020.
1997-2004 Nissan Navara (Oil reset) Service Wrench Maintenance Light Reset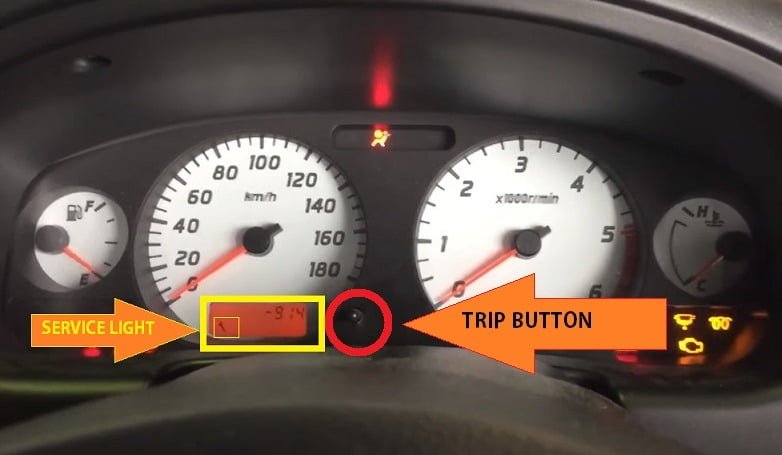 STEP 1
STEP 2
Press the hold TRIP BUTTON. Hold for 5 seconds then release and HOLD again and it display 11000 then HOLD for 5 second and release until it displayed (OIL GOOD)  then turn the ignition OFF.
This tutorial will work for the following Model
Nissan Datsun
Nissan Frontier
Nissan NP300
Nissan Fiera
Nissan Hardbody
Nissan PickUp
Nissan Terrano
Nissan Winner
Nissan Skystar
Nissan Big M Frontier
Nissan Frontier Bravado
Dongfeng/ZNA Rich
Peugeot Pick-Up
Giad Pickup
Bhamo Pickup
Nissan Navara D22
---
2004-2014 Nissan Navara Service Wrench (Spanner) Warning Indicator Light Reset.
STEP 1
STEP 2
While the Service Light is Displayed. Press and Hold the TRIP BUTTON until the 10000 is flashing. While Flashing Turn Ignition OFF.
STEP 3
This tutorial will also work to the following  model
Nissan Navara D40
Suzuki Equator
Nissan Frontier
Nissan Navara Brute
Nissan Frontier Navara
ACMAT ALTV
---
2014-2020 Nissan Navara Service Reminder Reset
STEP 1
STEP 2
Then Press and HOLD  the TRIP BUTTON until it displayed ( ——-km ) then release.
STEP 3
Turn Ignition OFF. Service Reset is complete.
---
2014-2020 Nissan Navara Oil & Oil Filter Reset (Service Due)
STEP 1
STEP 2
Press the PAGE button on the DIC located at the left side of the steering wheel.  to Navigate SETTINGS then press ENTER.
STEP 3
Select MAINTENANCE then press ENTER.
STEP 4
Select the OIL CONTROL SYSTEM to reset the Oil.
Select the OIL FILTER to reset the Oil filter reminder.
Choose the Maintenance you want to reset.
STEP 5
This tutorial will work also to these model
Nissan Navara D23
Mercedes-Benz X-Class
Nissan NP300
Nissan NP300 Navara
Renault Alaskan
Dongfeng Ruiqi 6/Rich 6 (China)
---
About Nissan Navara
The Nissan Navara is the name for the D21, D22, D40 and D23 generations of Nissan pickup trucks sold in Asia, Europe, South Africa, New Zealand and Australia. In North, Central and South America and some selected markets, it is sold as the Nissan Frontier or Nissan NP300.
After more than 10 years with the D21, Nissan unveiled the similar sized D22. It was replaced with the bigger, taller, longer D40 mid-size pickup. In 2014, Nissan released its successor, the D23, for international markets other than Canada and the U.S.
The Navara gets its name from the Navarre region of northern Spain. The European version is built at the Nissan factory in Barcelona. (source:wiki)