Lexus LC500 Service Maintenance Required Reset
How to reset the oil service maintenance required indicator message light on a Lexus LC500 / LC500H (Hybrid) from the years 2017, 2018, 2019, and 2020, with an image guide to make it easy to understand.
STEP 1
Close all doors, gear to the park position.
STEP 2
Stop the car, turn the ignition switch to the ON position. (press the power Button 2x)  Without touching the brake pedal. (NOTE) If the service maintenance hasn't been reset when the ignition is turned on only, try to reset by turning it on the ignition while your foot is on the brake.
STEP 3
Press the Back button on the steering wheel, then scroll to the right to navigate SETTINGS.
STEP 4
Scroll down to VEHICLE SETTINGS then press the OK button.
STEP 5
Select SCHEDULE MAINTENANCE then  press the OK button.
STEP 6
Then select YES to reset.
STEP 7
THE DATA HAS BEEN RESET, turn off the ignition Oil reset is complete.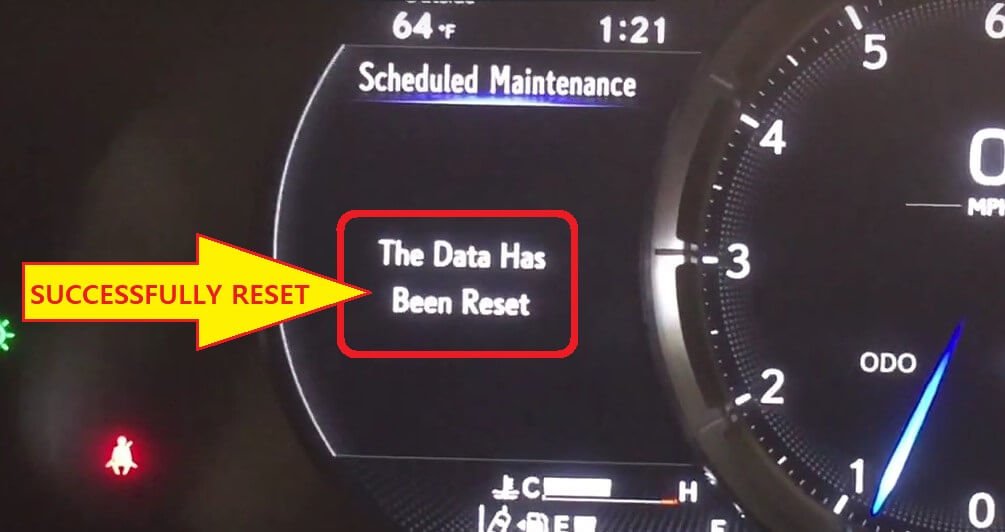 About Lexus LC500
In January 2016, four years after the concept's debut, the production model, dubbed LC 500, was unveiled at the same location. It uses the same 5.0-litre 2UR-GSE V8 engine as the RC F and GS F, but with a slightly higher power output of 351 kW; 471 hp; 478 PS. The engine is mated to a 10-speed automatic transmission.
A hybrid-electric model, dubbed LC 500h, was revealed in Geneva in February 2016. It is powered by a 3.5-litre 8GR-FXS V6 engine, a hybrid transmission, and a lithium-ion battery pack with a combined 264 kW; 354 hp; 359 PS output at 6,600 rpm, and an estimated 500 N⋅m (370 lb⋅ft) of combined torque at 3000 rpm. The battery has 44 kW and 1.1 kWh and can power the car for 6 km (4 miles).
The LC 500 Convertible, based on the concept car, was unveiled at the LA Auto Show on November 20, 2019. Its four-layer soft top roof can be operated at speeds of up to 50 km/h (30 mph). Its features include a transparent polycarbonate wind deflector, neck heaters, and Active Noise Control (ANC) technology.
The LC 500 is powered by a 2UR-GSE 5.0-litre V8 engine which is an updated version of the engine found in the RC F and GS F. It uses D-4S direct and port fuel injection, Atkinson cycle operation and VVT-i. The engine produces 351 kW (471 hp; 477 PS) at 7,100 rpm and 540 N⋅m (398 lbf⋅ft) of torque at 4,800 rpm and is mated to a 10-speed Direct Shift automatic transmission.
The LC 500h employs a hybrid powertrain, known as the Lexus Multi Stage Hybrid system. It consists of a 3.5-litre 8GR-FXS V6 engine which produces 220 kW (295 hp; 299 PS) at 6,600 rpm and 356 N⋅m (263 lb⋅ft) of torque at 5,100 rpm, in addition to two electric motors whose total output is 132 kW (177 hp; 179 PS) and 300 N⋅m (220 lb⋅ft) of torque. Combined power output over the entire system is 264 kW (354 hp; 359 PS) and 500 N⋅m (369 lbf⋅ft) of torque.
The LC500 GT500 is a GT500 GT race car derived from the road-going LC500 for use in the Super GT from 2017 onwards. The car is the direct replacement to the Lexus RC F GT500, which competed in the 2014 to 2016 Super GT seasons. The LC500 GT500 car made its début at the 2017 Okayama GT 300km, and claimed 14 race wins of the 24 overall entered races from 2017 until 2019 (26 with the Super GTxDTM events). In 2020, with the introduction of the new Class One, the Toyota GR Supra would take its place in the GT500 category. (source:wiki)