The 20 Different Car Body Types
Did you know that there are 20 distinct types of car bodies? In this blog article, I will show you the many automobile body styles. Some of this is highly popular on the roadways, while others are not. Automobiles come in a variety of body styles, including the following:
OFF-ROAD Car Body Type
An off-road vehicle, often known as an overland or adventure vehicle, is any form of vehicle capable of driving on and off paved or gravel surfaces. It is distinguished by enormous tires with deep, open treads, a flexible suspension, or even caterpillar tracks. Tractors, forklifts, cranes, backhoes, bulldozers, and golf carts are examples of off-highway vehicles that do not drive on public streets or highways.
Because of their adaptability, off-road vehicles have a devoted following. Off-road vehicle racing is used in a variety of motorsports. The most typical use for these vehicles is for sight-seeing in regions far from the roadway. The use of greater clearance and higher traction vehicles allows access to rugged and poor traction trails and forest roads. Some off-road vehicles can traverse water; we refer to the quantity of water they can traverse as wading depth.
CABRIOLET/CONVERTIBLE Car Body Type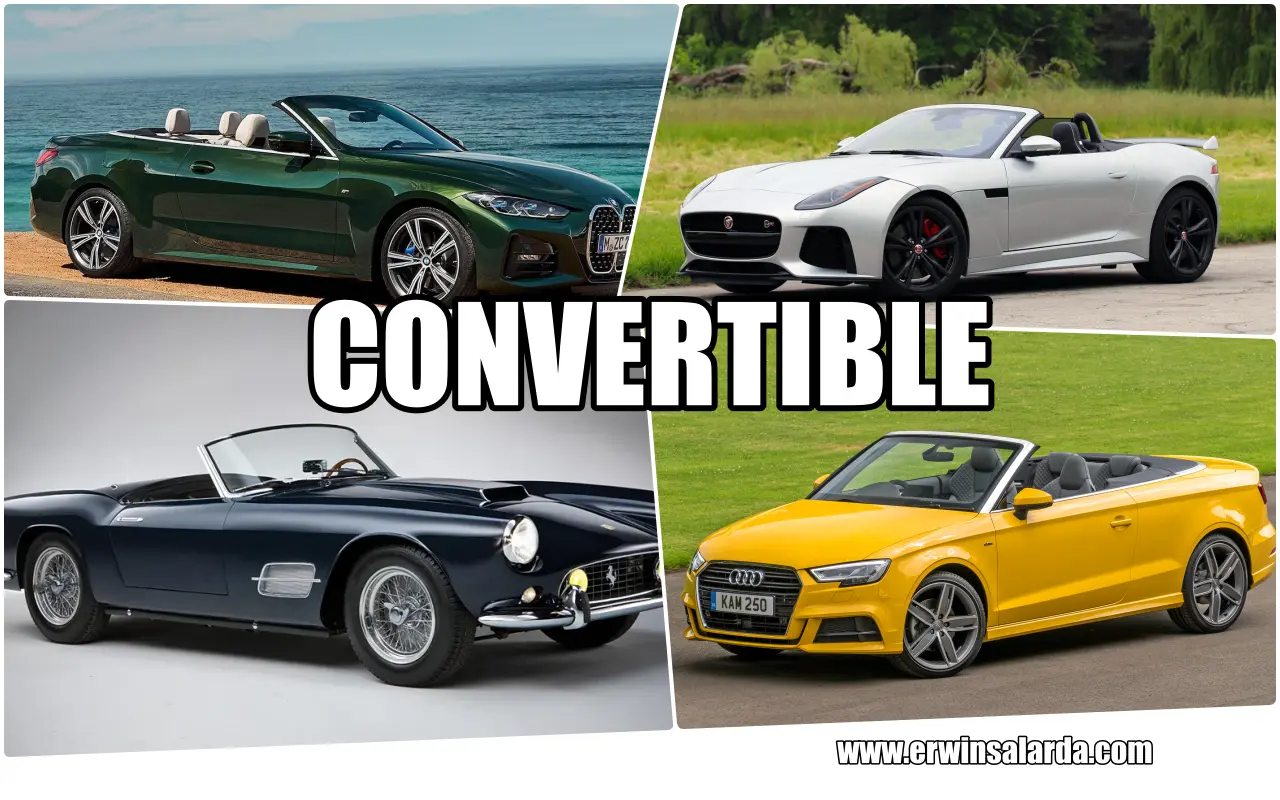 A convertible, often known as a cabriolet, is a kind of passenger automobile that may be driven with or without a roof. The procedures for retracting and storing the roof differ depending on the model. A convertible provides an open-air driving experience with the option of adding a roof when needed. Convertibles may have a lower structural stiffness (requiring extensive engineering and design to counterbalance the impacts of removing a car's roof).
The majority of convertible roofs are built with a folding structure and a cloth or other fabric top. Retractable hardtops (typically made of metal or plastic) and removable hardtops are two further forms of convertible roofs (where a metal or plastic roof is manually removed and often stored in the trunk).
COUPE Car Body Type
A coupe or coupé is a two-door passenger automobile with a sloping or truncated rear roofline. The name coupé was initially given to two-passenger horse-drawn carriages with no rear-facing seats. It is derived from the French word of "cut."
MINIVAN Car Body Type
Minivan (or simply van) is an automobile classification in North America for vehicles meant to carry people in the back seating row(s), with reconfigurable seats in two or three rows. In Europe, the corresponding categorization is MPV (multipurpose vehicle) or people carrier/mover. Minivans often feature a one-box or two-box body design, a taller roof, a flat floor, sliding doors for rear passengers, and high H-point seating.
Most minivans have a lower body and are built on a passenger car chassis, as opposed to a full-size van. Early models, such as the Ford Aerostar and Chevrolet Astro, were built on a tiny pickup truck basis.
The biggest size of minivans is sometimes known as a 'Large MPV,' and it became popular when the 1984 Dodge Caravan and Renault Espace were introduced. These are often built on platforms borrowed from D-segment passenger vehicles or tiny pickup trucks. Minivans in the compact MPV and tiny MPV sizes have grown in popularity since the 1990s. If the term'minivan' is used without specifying a size in North America, it typically refers to the biggest size.
PICKUP Car Body Type
A pickup truck, often known as a pickup, is a light-duty vehicle having an enclosed cabin and an open cargo area, as well as low sidewalls and a tailgate. Once a labor or agricultural tool with little creature comforts, pickup trucks became popular among American consumers in the 1950s for lifestyle reasons, and by the 1990s, fewer than 15% of owners reported using the pickup truck for work as its main purpose. The truck is mostly utilized as a passenger automobile in North America, accounting for around 18% of total vehicle sales in the United States. Full-sized trucks and SUVs are a significant source of income for major automakers like as GM, Ford, and Stellantis, accounting for more than two-thirds of their worldwide pretax revenues but accounting for just 16 percent of North American vehicle production. These cars have a large profit margin and a high price tag; in 2018, Kelley Blue Book reported a new Ford F-150 costing an average of US$47,174 (including optional extras).
The phrase "pickup" has no recognized origin. Studebaker adopted it in 1913, and by the 1930s, "pick-up" (hyphenated) had become the usual phrase.
SEDAN Car Body Type
A sedan, sometimes known as a saloon in British English, is a three-box passenger automobile having distinct compartments for the engine, passengers, and baggage.
Sedan was originally used as a term for an automobile body in 1912. The term is derived from a 17th-century version of a litter, the sedan chair, which is a one-person enclosed box with windows and is carried by porters. In Book VI of the Lives of the Twelve Caesars, page 258, Modern Library, Random House, Suetonius describes the Sedan used to transport Nero to the theater.
Close-coupled sedan, club sedan, convertible sedan, fastback sedan, hardtop sedan, notchback sedan, and sedanet/sedanette are all variations of the sedan body design.
STATION WAGON/ESTATE Car Body Type
A station wagon or estate car is a variant of a sedan/saloon with its roof extended rearward. The American Heritage Dictionary defines a station wagon as "an automobile with one or more rows of folding or removable seats behind the driver". Station wagons can flexibly reconfigure their interior volume via fold-down rear seats to prioritize either passenger or cargo volume.
HATCHBACK Car Body Type
A hatchback is an automobile body style featuring an upward-swinging rear door that provides access to the cargo space. Hatchbacks may have a fold-down second row of seats, allowing the interior to be adjusted for passenger or cargo space. Hatchbacks are available in two- or three-box configurations.
The hatchback body type has been sold globally on a variety of vehicles ranging in size from superminis to compact family cars, as well as executive and sports automobiles. They are an integral part of every sport utility vehicle.
SUV Car Body Type
A sport utility vehicle, or SUV, is a kind of vehicle that combines components of road-going passenger automobiles with off-road vehicle characteristics, such as increased ground clearance and four-wheel drive.
There is no universally accepted definition of an SUV, and the word is used differently in different nations. Thus, it is "a wide phrase that has historically included a diverse variety of four-wheel-drive vehicles." According to some definitions, an SUV must be based on a light truck chassis; however, more expansive definitions include any vehicle with off-road design attributes as an SUV. While a crossover SUV is often characterized as an SUV with a unibody structure (like with passenger vehicles), crossovers are frequently referred to simply as SUVs.
SUVs predate military and low-volume vehicles released in the late 1930s, as well as four-wheel drive station wagons and carryalls debuted in 1949. The 1984 Jeep Cherokee (XJ) is widely regarded as the first SUV to have a contemporary design. Today, some SUVs are built on unibody chassis; however, in the past, most SUVs were built on body-on-frame chassis. During the late 1990s and early 2000s, SUVs gained significant appeal, often at the cost of big sedans and station wagons.
Recently, smaller SUVs, mid-size SUVs, and crossovers have grown in popularity. SUVs are the biggest automotive category in the world, accounting for 45.9 percent of the global passenger vehicle market in 2021.
SUVs have come under fire for a number of environmental and safety concerns. They are often less fuel efficient and need more resources to construct than smaller cars, contributing much more to climate change and environmental destruction. Their increased center of gravity puts them at a greater danger of rollover. Their increased bulk limits their braking radius, reduces visibility, and increases the amount of damage caused to other road users in crashes. Their wider front end makes them at least twice as likely to kill people when they collide. Additionally, the psychological feeling of security they provide on drivers encourages them to drive more recklessly.
CROSSOVER Car Body Type
A Crossover, crossover SUV, or crossover utility vehicle (CUV) is a form of unibody sport utility vehicle. Crossovers, a word that originated in North America, are vehicles that share a platform with a passenger automobile, as opposed to a pickup truck. As a result, crossovers are sometimes referred to as "car-based SUVs." Due to ambiguities on whether some cars are classified as crossovers or SUVs, the word "SUV" is often used to refer to both crossovers and small SUVs.
As of 2006, crossover vehicles accounted for more than half of the entire SUV market in the United States. Since the early 2010s, crossovers have grown in popularity in Europe as well.
What is the difference between a SUV and a crossover?
The only major difference between an SUV and a crossover is the frame. If one is based on a truck's platform, it's an SUV, but if it's based on a car's platform, it's a crossover. This means that an SUV has a body-on-frame design while all crossovers are considered unibody vehicles.
MPV Car Body Type
An MPV (Multi-Purpose Vehicle) is a big passenger vehicle characterized by its spaciousness and adaptability. Also known as people carriers, an MPV is a vehicle intended to comfortably transport five to seven people and normally fits within the C-segment of the European passenger car segmentation system.
What Are the Different SUVs, MPVs, and Crossovers?
To sum up, then: An MPV is a minivan, or people carrier, designed to carry five to seven people in comfort. An SUV is designed, primarily, to be an off road vehicle that can, and usually is, driven on the roads, and a crossover vehicle, is a cross between an SUV and a family saloon.
SAV Car Body Type
The SAV is an unique phrase that is exclusively used to refer to the BMW X series of automobiles. The SAV varies from the conventional SUV in many ways. It was decided to develop the Sports Activity Vehicle with an emphasis on the total power, space, and towing capabilities that the vehicle has to offer. Consider the SAV to be an SUV with off-road capability, but with the performance of a sports car.
While the word "SUV" is quite ubiquitous, the term "SAV" is relatively new, and it is something that the BMW brand has embraced. SAV is an abbreviation for Sports Activity Vehicle, and it refers to SUVs that take a sporty approach to driving.
AUV Car Body Type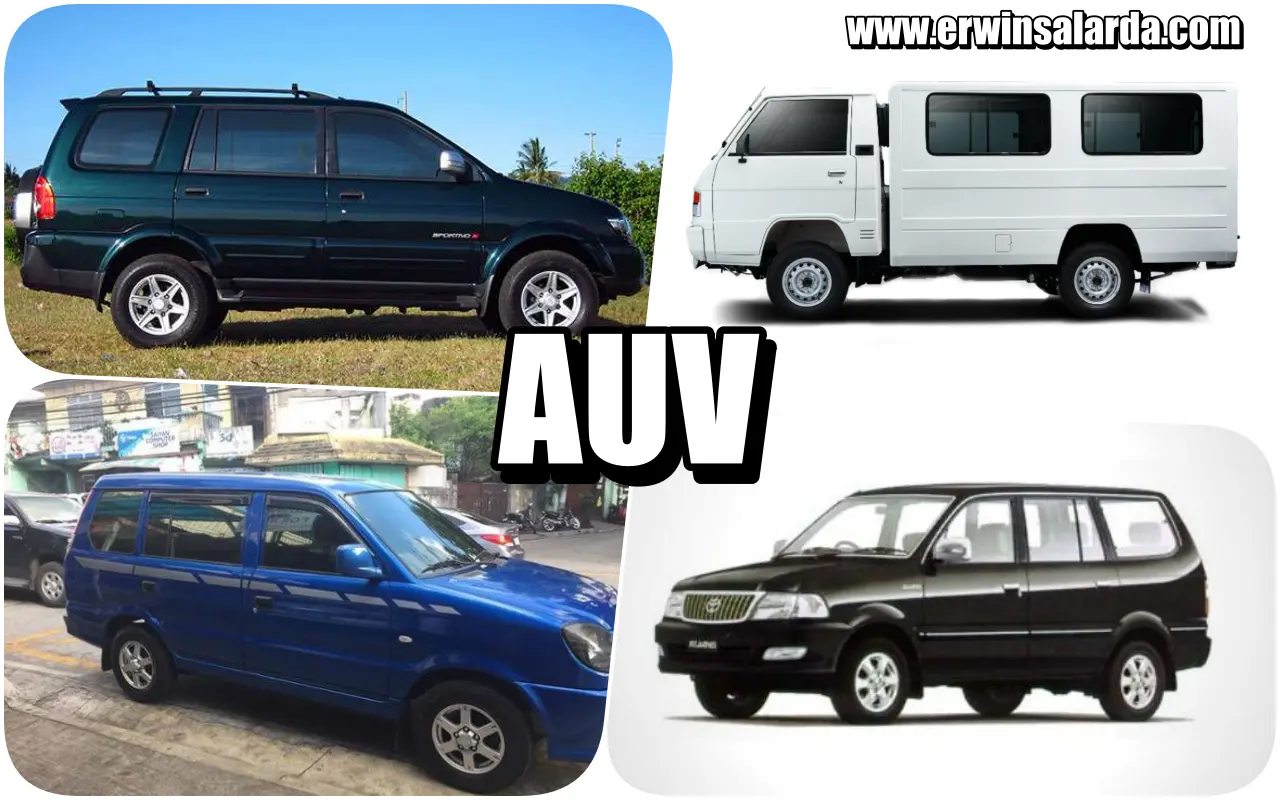 AUV, which stands for Asian utility vehicle In the late 1960s and early 1970s, AUVs (also known as Basic Utility Vehicles or BUVs) were introduced to the market with the intention of being distributed largely in developing nations, particularly in East Asia. They are advertised as a low-cost and straightforward mode of transportation, rather than as a tough vehicle like a fully-committed SUV. However, the body design is similar to that of the SUV, but with lower proportions and a more straightforward outward style.
The Isuzu Crosswind and Mitsubishi Adventure are two of the AUVs that Filipinos are particularly fond of, while the Toyota Tamaraw, Ford Fiera, Isuzu Hilander, and Mitsubishi L300 are among the vehicles that were formerly popular in the country. Isuzu and Mitsubishi, the two manufacturers that sold the two most popular AUVs in the Philippines at the time of this writing, had already pulled the plug on their respective models in the nation.
CUV Car Body Type
A CUV, or Crossover Utility Vehicle, is a kind of vehicle that is becoming more popular. It combines the compact practicality of a sedan with the roominess of an SUV. Unlike SUVs, which are often constructed on the chassis of a light truck, a CUV is built on the chassis of a car, allowing it to be somewhat lighter.
What is the difference between an SUV and a CUV?
The chassis that separates a CUV from an SUV is the most significant distinction between the two types of vehicles. SUVs are built on truck chassis, whereas cross-overs are built on car chassis, according to technical specifications. As a result, SUVs are often constructed with a 'body on chassis,' while CUVs are constructed with a single body.
TARGA Car Body Type
Targa tops, often known as targa, are a semi-convertible automobile body design that has a detachable roof portion as well as a full width roll bar behind the front seats. The name was initially used to the Porsche 911 Targa in 1966, and it continues to be used as a registered trademark of Porsche AG.
In most Targa models, the rear window is permanent, however in select models, the rear window is a detachable plastic foldable glass, allowing it to be used as a convertible. Targa bands, Targa bars, and wrapover bands are all terms used to describe a piece of generally fixed metal or trim that rises up from one side, crosses the roof, and descends the other side of the building.
For comparison, T-tops have a solid, nonremovable bar running between the top of the windscreen and the rear rollbar, whereas Targa tops typically have two separate roof panels above the seats that fit between the window and central t-bar. Targa tops are available in two different colors: black or white.
ROADSTER Car Body Type
A Roadster (also known as a spider or a spyder) is an open-top two-seat automobile that places a focus on its sports aspect or character. Originating as an American phrase for a two-seat automobile with no weather protection, the term has now gained widespread use across the world and has expanded to encompass two-seat convertibles.
In addition, throughout the 1950s and 1960s, the roadster was a kind of racing vehicle that was used in United States Auto Club (USAC) Championship Racing, including the Indianapolis 500, and other events. This sort of racing car was eventually phased out in favor of rear-mid-engine vehicles.
GRAND TOURER Car Body Type
An automobile known as a grand tourer (GT) is a kind of sports vehicle that is built for high-speed and long-distance travel, thanks to a mix of performance and luxury characteristics. The most popular configuration is a two-door coupé with a front-engine, rear-wheel-drive setup and either a two-seat or a two+2-seat configuration. Grand tourers are most typically the coupé version of luxury saloons, with a few exceptions.
A near-calque of the Italian language word great turismo, which first became popular in the English language in the 1950s after emerging from fast touring vehicles and streamlined closed sports cars during the 1930s, the term gran turismo has been widely used in the English language.
FASTBACK Car Body Type
A fastback is a kind of automobile style characteristic distinguished by the fact that the rear of the vehicle has a single slope from the roof to the rear bumper. The kammback is a sort of fastback style that is popular nowadays.
Ford Mustang and other vehicles have been expressly marketed as fastbacks, typically in order to distinguish them from other body types (for example, coupe versions) within the same model range. The 4-door coupe is a frequent branding phrase used today to designate fastback sedans, and it was first used in the 1920s.
LIFTBACK Car Body Type

A liftback is a kind of hatchback that has a sloping roofline that ranges from 45 degrees to 5 degrees. The tailgate or rear door of traditional hatchback designs is typically sloped at a 90-46 degree angle from the horizontal. A liftback is simply a hatchback with an elevated roofline that is more akin to that of sedans and saloons. Others may resemble coupés in appearance, but they may also feature an opening tailgate hinged at the roof, which must be raised to allow them to open.
The liftback design blends the adaptability of a standard hatchback with the aerodynamics of a sedan to create a truly unique vehicle. Compared to the normal hatchback and sedan, liftbacks often have additional trunk capacity, but not as much as the station wagon/estate form of the same model.
QUADRICYCLE Car Body Type
In the European Union, the quadricycle is a vehicle category that includes four-wheeled microcars. This category enables for these vehicles to be constructed to meet less strict regulations than conventional automobiles. Quadricycles are determined by restrictions on their weight, engine power, and maximum speed, among other things.
Quadricycles may be divided into two categories: light quadricycles (L6e) and heavy quadricycles (L6e) (L7e).
Compiled and researched with ❤️by Erwin Salarda.
A Comprehensive Guide to Different Car Body Types,What Are the Different Types of Car Bodies?,A VisualGuide to Different Car Body Types,From SUV to Hatchback: A Comprehensive Guide to Car Body Types,Not Sure What Type of Car You Want? This Guide Is for You!,Do You Know the Different Types of Car Bodies?,Different Types of Car Body Types: Which One Is Right for You?,A Comprehensive Guide to Different Car Body Types,What Are the Different Types of Car Body Types?,The Pros and Cons of Different Car Body Types,How to Choose the Right Car Body Type for You,Different Car Body Types: An Insider's Guide