Lexus ES300H 2015-2020 Maintenance Required Reset
Lexus oil reset. Easy to follow tutorial on how to reset the Lexus ES300H Oil Service Maintenance Required Reminder Indicator light from the year 2015-2016, 2017, 2018, 2019 to 2020.
STEP 1
Close all doors, gear to the park position.
STEP 2
Stop the car, turn the ignition switch to the ON position. (press the power Button 2x)  Without touching the brake pedal. NOTE: If the service maintenance has not been reset while the ignition is turned on, try to start the engine.
STEP 3
Press the BACK button to close any popup window, then scroll to the right to navigate SETTINGS (Press OK button.
STEP 4
Scroll to VEHICLE SETTINGS then press OK button.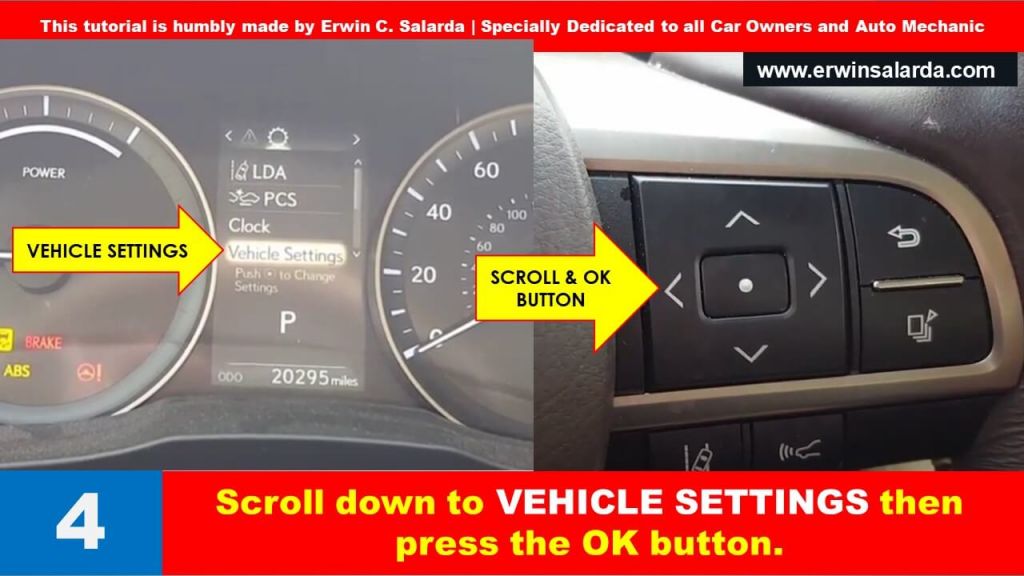 STEP 5
Scroll down to SCHEDULE MAINTENANCE then press the OK button
Then reset the OIL MAINTENANCE , When the oil change is done.
STEP 6
Select YES then press the OK button.
STEP 7
The data has been reset . Turn off the ignition, oil service maintenance required reset is complete.
VIDEO GUIDE
About Lexus ES300H Seventh generation
The seventh generation ES was unveiled at the April 2018 Beijing International Automotive Exhibition.
It is built on the same GA-K platform as the XX50 series Avalon.
The F Sport variant also made its debut in this generation.
All models come equipped with Lexus Safety System+ 2.0.The facelift model was unveiled in April 2021.
It's the first year that offered in AWD, the 50/50 maximum torque distribution provided equal torque between the front and rear wheels.
The ES didn't get as much updates on the exterior – the grill has a similar spindle with horizontal slats instead of a mesh design.
On the sides of the car, smaller side scoops were used than the previous model.
The day time running lights got updated, featuring V-shaped LEDs.
The interior also got updated.
The infotainment system got a touch-screen, and it also had the touch pad from the center console.
The standard 8-inch was moved up an extra 4.3 inches for easier accessibility.
A 12.3-inch unit was offered in 2021.
There were also rear view cameras added instead mirrors for better visibility, and they were installed at the bottom of the A-pillar.