The Complete List of 51 Dashboard Lights That Requires Driver Attention
Here are the 51 lights on your dashboard that need your attention. These are the dashboard lights in your car that are amber in color. I compiled this dashboard light for you. I hope you learned something from it so that you will be aware when these dashboard lights appear on your car dashboard.
1. Adaptive Cruise Control
2. Alert Notice
3. All Wheel Lock
4. All Wheel Steer
5. Anit-Lock Brake System Warning
6. Auto Braking Indicator
7. Auxiliary Brake Active
8. Blind Spot Indicator
9. Brake Fluid Low
10. Brake Warning Light Fault
11. Brake Pad Wear Warning
12. Brake Pad Warning – Front
13. Brake Pad Warning – Rear
14. Collisions Warning Off
15. Convertible Top Warning
16. Crosswind Assist
17. Diesel Engine Preheat
18. Diesel Particulate Filter Warning
19. Dirty Air Filter
20. Electric Shift Malfunction
21. Exterior Light Fault
22. Four-Wheel-Drive Fault
23. Gas Cap Loose
24. Glow Plug
25. Headlight Range Control
26. Key Fob Battery Low
27. Key Not In Vehicle
28. Lane Departure Warning
28. Lane Departure Warning
29. Low Coolant Level Detected
30. Low Fuel
31. Malfunction Indicator Lamp (MIL)
32. Needs To Be Towed
33. Parking Brake
34. Passenger Airbag Deactivated
35. Press Brake Pedal
36. Press Clutch Pedal
37. Rear Differential Lock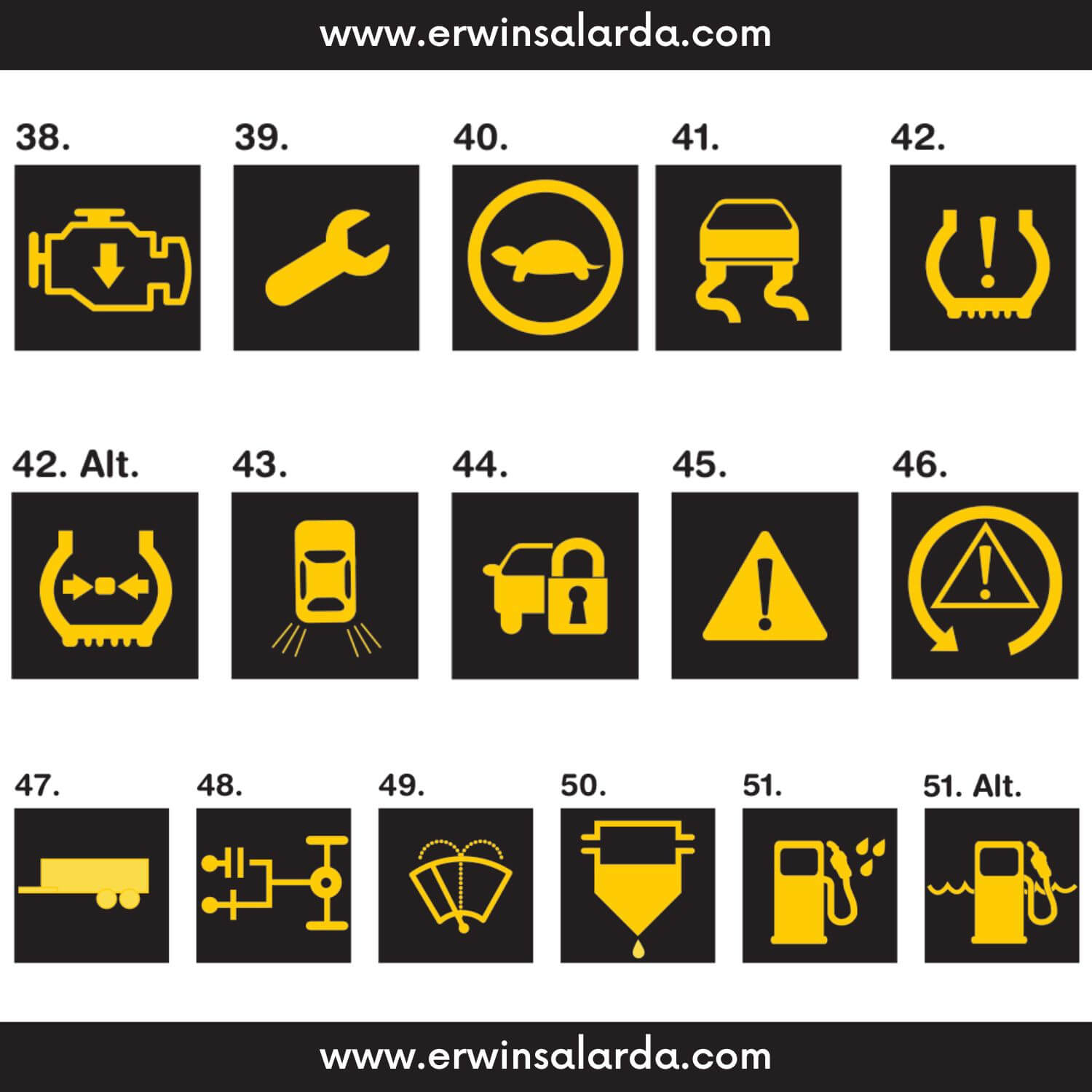 38. Reduced Power
39. Service Required
40. Speed Reduced
41. Stability Control Activated
42. TPMS Warning Lamp
43. Tail Light Out
44. Theft Deterrent
45. Time for Maintenance Indicator
46. Traction Control Fault
47. Trailer Towing Mode
48. Transmission Warning
49. Washer Fluid Low
50. Water in Diesel Fuel
51. Water in Fuel Filter
Hello, my friend, these are the amber-colored dashboards that require the driver's immediate attention. I hope you find my website useful. Thank you very much – Erwin Salarda.