HOW TO GUIDE: Honda Accord Reset Tire Pressure
These are the instructions that will walk you through resetting the maintenance reminder light for the TPMS (Tire Pressure Monitoring System) on your Honda Accord. To make it simpler for you to reset the TPMS, please follow the directions that are provided below.
You must start TPMS calibration every time you:
• Adjust the pressure in one or more tires.
• Rotate the tires.
• Replace one or more tires.
NOTE: Measure the air pressure when tires are cold. This means the vehicle has been parked for at least three hours, or driven less than 1 mile (1.6 km). If necessary, add or release air until the specified pressure is reached. If checked when hot, tire pressure can be as much as 4–6 psi (30–40 kPa, 0.3–0.4 kgf/cm2) higher than if checked when cold. Whenever tire pressure is adjusted, you must calibrate the TPMS.
Honda Accord 2008-2017 TPMS Reset
Tire pressure monitoring system TPMS reset guide for Honda Accord car model from the year 2008, 2009, 2010, 2011, 2012, 2013, 2014, 2015, 2016, 2017.
STEP 1
Make sure the engine stop.
STEP 2
The GEAR must be:

Manual transmission (N).
Automatic Transmission /CVT model (P).
STEP 3
The ignition switch is in ON. Don't start the engine.

Models with the smart entry system have an ENGINE START/STOP button instead of an
ignition switch.
MODELS WITH INFORMATION DISPLAY
Press and hold the TPMS button until the low tire pressure/TPMS indicator blinks twice, indicating the calibration process has begun.
• If the low tire pressure/TPMS indicator does not blink, confirm the above conditions then press and hold the TPMS button again.
• The calibration process finishes automatically.
MODELS WITH MULTI-INFORMATION DISPLAY
HONDA ACCORD 2018-2022 TPMS RESET
Please follow the instruction below to guide you to reset the Tire pressure monitoring system on Honda Accord from the year 2018, 2019, 2020, 2021 to 2022.
1. Set the power mode to ON. (ignition On) Gear in the PARK Position.
2. Press the HOME button.
3. Select Settings.
4. Select Vehicle.
5. Select TPMS Calibration.
6. Select Calibrate.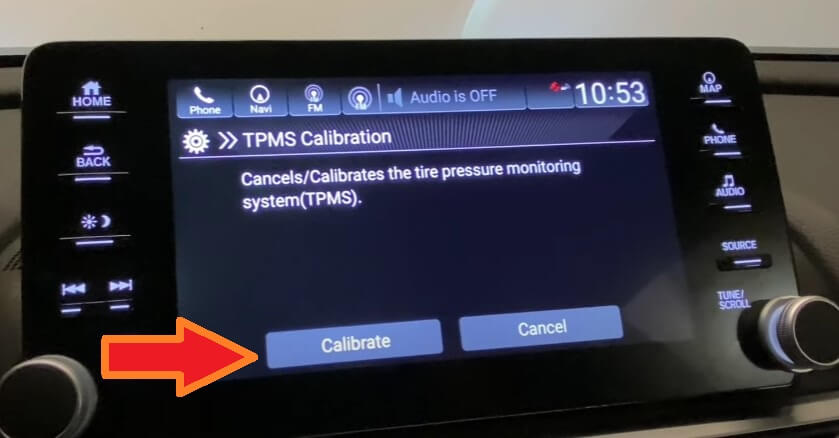 7. The TPMS reset is complete. start the engine to verify the TPMS light is reset.
Thank you very much! Compiled and researched with ❤️by Erwin Salarda.