Bright Robotic Leverless Tire Changer – BP886N COYOTE
COYOTE BP 886N PREMIUM
Car Pro Tire Changer especially equipped for Car Tires.
Special material demounting head and lifetime warranty. The 41mm hex bar can be suitable for the operation of all tires.
The 40A universal switch with bigger and ticker pure silver touching points can bear great load with a long using life. Tilt arm structure; tilt for- and backward by pneumatic control and lock.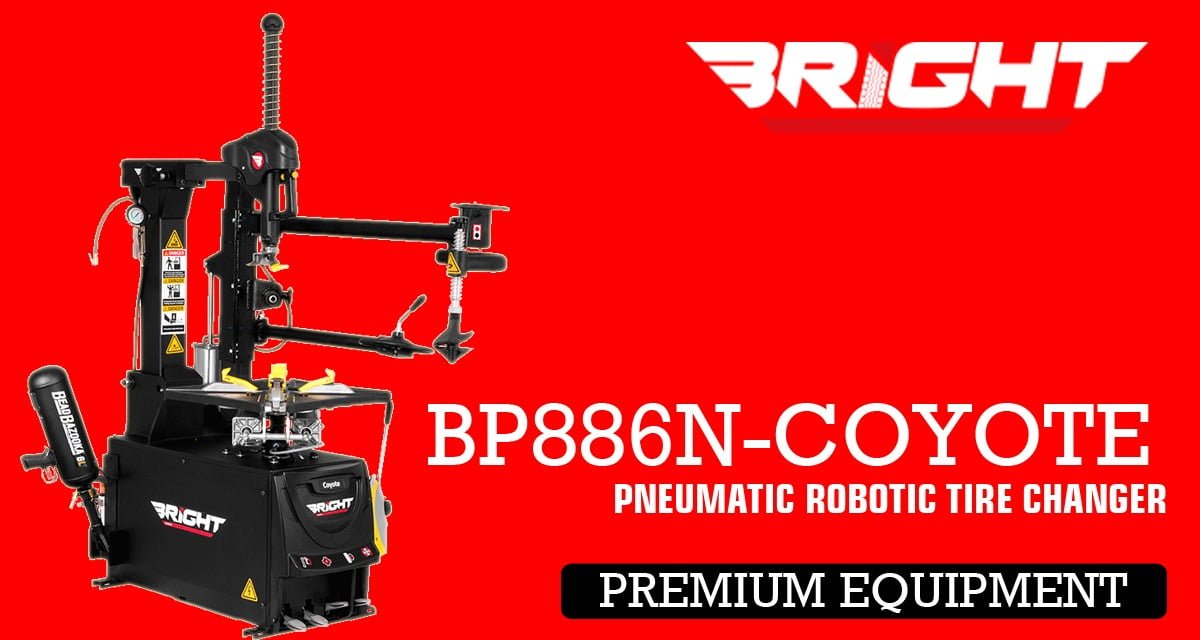 Technical Specification:
| | |
| --- | --- |
| EN / DE / FR / NL | |
| Outside clamp / Felgeneinspannung von außen / Domaine de centrage par l´extérieur / Uitwendig opspannen | 10" – 20" inch |
| Inside clamp / Felgeneinspannung von innen / Domaine de centrage par l´intérieur / Inwendig opspannen | 12" – 23" inch |
| Max. wheel diameter / Max. Raddurchmesser / Diamètre max. de pneu \ Max. velgdiameter | 1100 mm |
| Tire width / Max. Felgenbreite / Largeur de pneu/ Max. velgbreedte | 3" – 13" inch |
| Turntable configuration / Drehscheibe Konfiguration / Configuration plateau tournant / Configuratie draaitafel | 21" arch shape |
| Turntable rotation speed / Drehgeschwindigkeit / Vitesse de rotation du plateau tournant / Draaisnelheid | 6,5 rpm |
| Turntable ram cylinder diameter / Zylinderdurchmesser der Drehscheibe / Diamètre du cylindre du plateau tournant / Cilinderdiameter ram draaitafel | 80 mm |
| Working air pressure / Betriebsdruck / Pression pneumatique / Werkdruk | 8 – 10 bar |
| Bead breaker force / Abdrückkraft / Force de rupture du pneu / Afdrukcapaciteit 2500 kg | 2500 kg |
| Power supply voltage / Stromversorgung / Alimentation électrique / Elektrisch vermogen | 380v/1Ph-50 Hz |
| Power / Motorleistung / Énergie / Motorvermogen | 0.75kW |
| Noise / Geräuschpegel / Niveau sonore / Geluidsniveau <70 dB | <70 dB |
| Dimensions (LxWxH) / Maße (LxBxH) / Dimensions (LxPxH) / Afmetingen (Lxbxh) | 1800x1300x2000 mm |
| CTN. size / Verpackungs-Maß / Dimensions d'emballage / Verpakkingsafmetingen 980 x 760 x 950 mm | 1400x1020x2050 mm |
| Nett weight / Nettogewicht / Poids net / Netto gewicht | 259 kg |
| Gross weight / Bruttogewicht / Poids brut / Bruto gewicht | 418 kg |