BMW Z3 1995-2002 TPMS Reset
About BMW Z3
The BMW Z3 is a range of two-seater sports cars which was produced from 1995 to 2002. The body styles of the range are:
2-door roadster (E36/7 model code)
2-door coupé (E36/8 model code)
The Z3 was based on the E36 3 Series platform, while using the rear semi-trailing arm suspension design of the older E30 3 Series. It is the first mass-produced BMW Z Series car.
Z3M models were introduced in 1998 in roadster and coupé body styles and were powered by the S50, S52, or S54 straight-six engine depending on country and model year. The M models came with a 5-speed manual transmission.
Production ended on June 28, 2002, with the Z3 line replaced by the Z4.
---
Z3 TPMS Reset Procedure
TPMS RESET
Set the tire pressure on all wheels to specification.
Turn ignition switch to ON position, with engine off.
Press reset button (for no longer than 10 seconds) until tire pressure warning light illuminates Yellow for a few seconds. See Fig. 11, Fig. 12, Fig. 13, or Fig. 17 .
Drive vehicle. Initialization is automatically completed during the drive, without any feedback issued.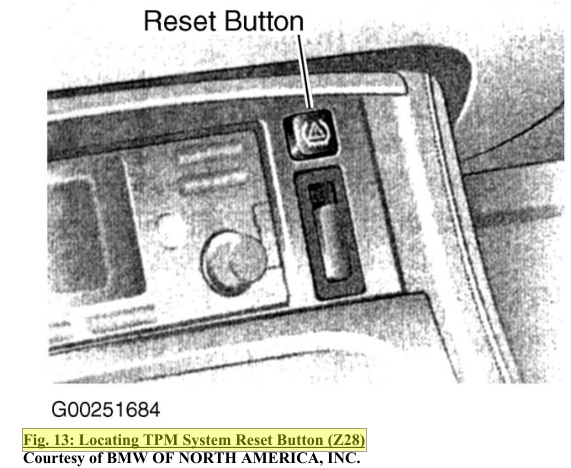 NOTE: On some X5 models, the reset button is marked "RDC".
Thats all! Thank you Very Much!