6 Powerful Toyota Technologies for Passenger Safety
Toyota Safety Sense™ (TSS)  is an active safety system that comes standard on many new Toyotas. Pre-Collision System with Pedestrian Detection, Dynamic Radar Cruise Control, Lane Departure Alert, Automatic High Beams, Lane Tracing Assist, Road Sign Assist.
Pre-Collision System with Pedestrian Detection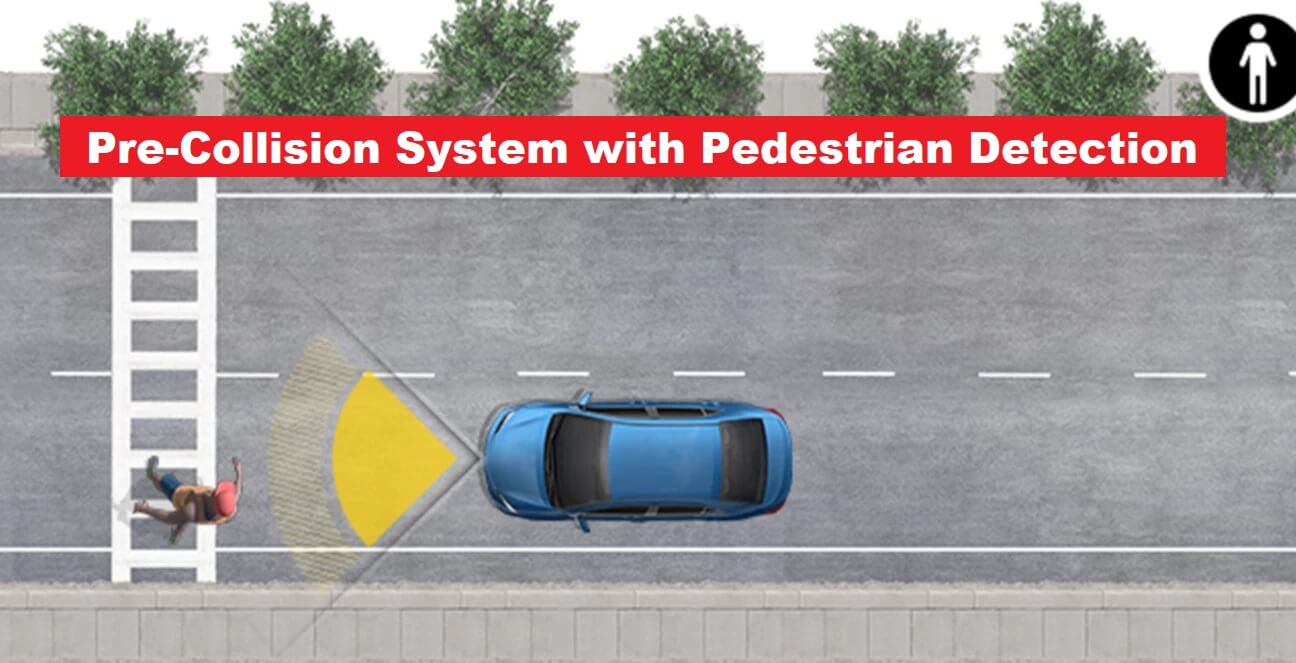 In some scenarios, the Pre-Collision System with Pedestrian Detection (PCS w/PD) * can help lessen or avoid impact with a vehicle or pedestrian. PCS w/PD uses a camera and radar to deliver both auditory and visual alarms, and if you do not respond, the system is programmed to brake automatically.
Dynamic Radar Cruise Control
This high-tech cruise control employs radar behind the Toyota badge as well as a camera on the windshield to alter your speed and assist you in maintaining a preset distance from the vehicle in front of you.
On highways or expressways, Dynamic Radar Cruise Control works similarly to traditional "constant speed" cruise control in that it assists vehicles in traveling at a consistent speed set by the driver, but this system adds a vehicle-to-vehicle distance control mode, which assists the driver by adjusting vehicle speed.
Lane Departure Alert
A camera on your windshield may assist you in avoiding the repercussions of unintentional lane departure by warning you when it detects that you have strayed from your lane.
Lane departure warning is intended to assist you in avoiding accidents caused by drifting or leaving your lane. The system recognizes lane markings and informs you when a tire comes into contact with one. The warning is often displayed as a flashing indicator and/or a beep from the corresponding side.
Automatic High Beams
A camera on your windshield improves nighttime driving by detecting the headlights and taillights of previous vehicles and switching between high and low beams accordingly.
When driving at night, the auto high-beam system may turn on the high lights when its windshield-mounted camera finds no vehicles ahead, and switch back to the low beams when vehicles ahead are identified .
Unlike traditional high beams, which must be activated manually, automated high beams are activated by default. A sensor detects the lights of surrounding vehicles, whether they are the taillights of vehicles traveling in the same way or the headlights of vehicles approaching from the oncoming lanes.
Lane Tracing Assist
Lane Tracing Assist (LTA) uses the lines on the road and preceding vehicles to help keep the vehicle centered and in its lane when Dynamic Radar Cruise Control (DRCC) is active and lane markers are visible.
When you use Dynamic Radar Cruise Control, Lane Tracing Assist uses a suite of sensors and cameras to keep your Toyota sedan, truck, or SUV centered in your lane. With this system in place, you will experience less driver fatigue, more convenience, and a smoother journey on a daily basis.
Road Sign Assist
The Road Sign Assist is equipped with so many cutting-edge sensors that analyze the car's surrounds while it is in motion. When the sensors detect a road sign, they instantly determine what it means – Stop, Go Slow, Yield, Speed Limit, One Way, Divided Highway Crossing, Bike Lane, To Train Crossing, and so on.
LEARN MORE ABOUT TOYOTA SAFETY SENSE
The "Toyota Safety Sense" or "Lexus Safety Sense" system uses a forward-facing millimeter-wave radar. It also pre-charges the brakes utilizing brake assist to provide the driver maximum stopping power when the brake pedal is depressed.
Toyota introduced PCS in the revamped Harrier in February 2003.
2003 August: the Celsior now has automatic partial pre-crash braking.
PCS was first offered in North America on the Lexus LS 430 in September 2003.
2004: The Crown Majesta radar PCS adds a single digital camera in July 2004 to improve collision forecast, warning, and control.
Pre-collision system with Driver Monitoring System using a CCD camera on the steering column, launched in March 2006. This device tracks the driver's gaze. To warn the driver of a frontal obstacle, the system uses a buzzer to inform him and pre-charges the brakes, if necessary.
A twin-lens stereo camera mounted on the windscreen and a more sensitive radar to detect smaller "soft" objects such as animals and pedestrians were added to the Lexus LS in 2006. Night vision is enabled through a near-infrared projector in the headlights. The AVS and electric power steering can adjust shock absorber firmness, steering gear ratios, and torque aids to help the driver maneuver around obstacles. If the driver fails to react, the lane departure warning system will automatically modify the steering to keep the car in its lane. The Lexus LS introduced DMS. The rear-end pre-collision system contains a rear-facing millimeter-wave radar. If a rear accident is detected, the system adjusts the active head restraints upward and forward to reduce whiplash damage.
2008: The Crown now has a driver monitoring system that detects whether the driver's eyes are open. It monitors the driver's eyes to determine alertness. A driver wearing sunglasses at night can still use this technique.
2008: Crown PCS with GPS-linked brake assist. The technology can detect whether the driver is late decelerating at a stop sign and can pre-charge the brakes to deliver force if necessary. This system works in certain Japanese cities and uses camera-detected road markers.
For junctions or when another car breaches the center line, Crown added a front-side millimeter-wave radar in 2009. If a front or rear impact is detected, the current version tilts the rear seat upward.
2012: The Lexus LS's APCS now decelerates from 37 mph (60 km/h), up from 25 mph (40 km/h). The APCS uses the same technologies as the APCs. This device doubles the braking force of normal drivers. It wasn't available in the US.
2013: Pedestrian-avoidance system These features can help avoid collisions when automated braking alone isn't enough, including when a vehicle is driving too quickly or a pedestrian suddenly walks in front of it. If the technology detects a pedestrian, it displays a visual alarm on the dashboard directly in front of the driver. If the likelihood of a collision increases, the system activates the increased pre-collision braking force and automated braking functions. If the system determines that braking alone will not prevent a collision, steer assist is initiated to direct the vehicle away from the pedestrian.
Toyota announced in 2016 that TSS and Lexus Safety System+ would be standard on nearly all Japanese, European, and US models by 2017.
2017: Lexus debuted Lexus Safety System+ 2.0 on the LS5. Toyota sold more cars with collision warnings than any other brand in the US in 2017, with 1.4 million sold, or 56% of their fleet.
TSS 2.0 now includes Lane Tracing Assist, Road Sign Assist, and Low Light Pedestrian Detection with Daytime Bicycle Detection, improving the Pre-Collision System. The executive Crown 15th generation is the first Japanese car to get TSS 2.0.
Lexus debuted Lexus Safety System+ 3.0 in the Lexus NX in 2021. Oncoming Vehicle Detection/Braking, Dynamic Radar Cruise Control with Curve Speed Management, Road Sign Assist, Pre-Collision System, Lane Assistance, and Intelligent High Beam are included in the package.
Source: Toyota Safety Sense. (n.d.). Toyota Safety Sense; www.toyota.com. Retrieved April 27, 2022, from https://www.toyota.com/safety-sense/
Compiled and researched with ❤️by Erwin Salarda.