BMW SERVICE  INTERVAL REMINDER LIGHTS RESET
NOTE: This is sometimes referred to as the "Oil Change Light" or "Oil Service Light".
NOTE: The service indicator can only be reset using the reset mode in the instrument cluster or by using BMW hardware. This procedure applies to 3- Series from production date 9/99, and 5-Series and 7-Series from production date 9/00 (except 2002-05 7-Series and 2004-05 5-Series) without an engine compartment diagnostic connector.
DESCRIPTION & OPERATION
Starting in 1983 and ending on some models in 1999, service indicator on instrument panel consists of 5
Green, 3 Red and one Yellow Light Emitting Diodes (LED) and the inscriptions OIL SERVICE and
INSPECTION. When ignition is on, as many as 5 Green LEDs will light up. The Green LEDs go out when
the engine is started. If the Yellow LED glows and one of the inscriptions comes on and remains on when
the engine is started, maintenance service is due immediately. When maintenance interval has been
exceeded (after approximately 1000 miles) the Red LED's will come on in addition to the Yellow LED as a
reminder for servicing.
Beginning on some models in 1999, a new method for displaying the service interval is used. Colored LEDs
are no longer used to display the amount of time until the next service or inspection is due. The actual
mileage remaining until the next service will be displayed for five seconds when the ignition is first
switched on. The text OIL SERVICE or INSPECTION will also illuminate to show which service is due. A
minus symbol (-) before the mileage display indicates that a service is past due.
BMW 1983-2005 Service Light Reset
Models With Engine Compartment Diagnostic Connector
To reset instrument cluster SIA OIL SERVICE indicator, turn ignition switch to ON position. Connect Service Indicator Resetter (62 1 110) to diagnosis connector in engine compartment. See image.

Identifying BMW Service Interval Reset Tool

Press Yellow OIL SERVICE button. Green LED will illuminate. Wait until Yellow LED illuminates.and then goes out again. Ensure that OIL SERVICE indicator has been reset.
To reset SERVICE INTERVAL indicator, press Red INSPECTION service button for inspection. Green LED illuminates. Wait until Red LED illuminates and then goes out again. Turn ignition switch to OFF position, wait 20 seconds and repeat procedure in order to adapt interval of annual inspection to inspection. Ensure that SERVICE INTERVAL indicator has been reset.
BMW 2001-2005 Service Light Reset
Models Without Engine Compartment Diagnostic Connector
Reset service light by performing the following:
Ignition key must be in OFF position.
Press and hold trip odometer reset button in the instrument cluster (left button), and turn ignition key to first position.
Keep the button pressed for approximately 5 seconds until one of the following words appear in the display: "OIL SERVICE", or "INSPECTION", with "RESET".
Release reset button and press it again until "RESET" begins to flash in the display. See Fig. 3 and Fig. 4 .
Service due is shown with "RESET" if coded minimum consumption limit has been reached and resetting is possible. If "RESET" is not shown, minimum limit has not been reached and resetting is not possible.
While "RESET" is flashing, press left button briefly to reset service interval. After display has shown new interval, following will appear: "END SIA".
System can only be reset again after 2.5 gallons of fuel have been consumed.
BMW 2004-2005 Service Light Reset
Models Without Condition Based Service (CBS) Interval System
SERVICE INTERVAL LIGHT RESET
The BMW maintenance system SIA IV (service interval indicator) is used on X3 models (E83). The service interval indicator is a system subject to constant development which in its development stages has been integrated in various model series such as E85 (Z4) and E46 (3 and M3-Series).
The service indicator appears in the LC display in the instrument cluster's speedometer. The indicator is shown for 5 seconds in the LC display after terminal R is "ON". See Fig. 5.
Resetting Service Interval Indicator
Resetting the service interval indicator for the oil service and inspection procedures can only be done by pressing the left button in the instrument cluster. See Fig. 6.
BMW 2002-2006 Service Light Reset
Models With Condition Based Service (CBS) Interval System
NOTE: Use this procedure on vehicles with an instrument panel like the ones shown in Fig. 7, Fig. 8, or Fig. 9. If vehicle has an instrument panel like the one shown in Fig. 10,
The "1" symbol means that you can reset service operation (early production vehicles may show an "F"), while a "0" indicates it is not resettable (the first 20 percent of the service interval is also protected against accidental reset). For additional information about Condition Based Service (CBS), see RESETTING AND CORRECTING CONDITION BASED SERVICE under PROGRAMMING in SELF-DIAGNOSIS –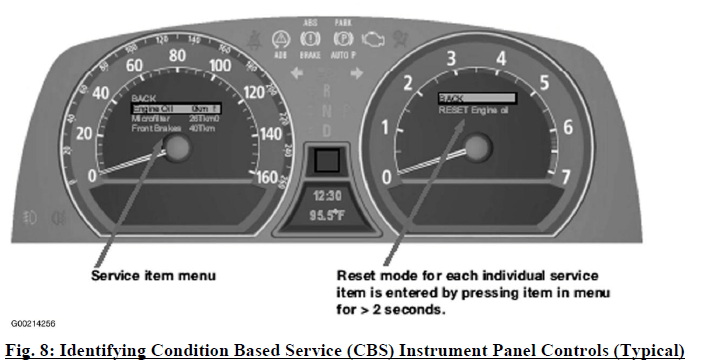 Models using a Condition Based Service (CBS) service interval system, which displays a Service Need
Display (SND). When ignition is on, Service Need Display appears under the speedometer in the instrument
cluster for 10 seconds in the place where the fuel tank level is normally displayed. The first line corresponds
to the mileage dependent service items. It specifies the mileage when the next service is due.
If the mileage is exceeded (service overdue), it appears with a minus sign. The second line corresponds to
the time dependent service items and is displayed by a clock symbol. It specifies the weeks/months/years
when the next service is due. If the service is overdue, it appears with a minus sign. The actual service item
(with additional information) can be viewed in the control display.
NOTE: On some models an appropriate scan tool may be used to reset CBS service schedules. By using suitable diagnostic equipment connected to the vehicle diagnostic connector it is possible to reset CBS service schedules at any time. By selecting the `CBS' option, the diagnostic equipment will gather information regarding the current state of CBS items from their relevant modules on the CAN network. see instruction below.
Service reset is accomplished using instrument cluster:
Insert key into ignition.
Press ignition start/stop button without depressing the clutch or brake, and wait for the service reminder to disappear.
Immediately after the service reminder indicator goes out, press and hold the odometer reset button or stalk. After 3 secs a warning triangle will appear, keep the odometer button pressed and after another 2-3 secs an oil can will appear. NOTE: If the odometer button is pressed too long (10 secs in total), German writing will appear (giving the software level/ can bus etc. of the vehicle). This indicates that you've overshot the reset procedure and you need to re-start from the beginning.
The service menu should now be displayed. Use the button (twist if the switch is a stalk – or if a button, tap repeatedly) to scroll up/down through the various service items. NOTE: On newer models, it may be the rocker/toggle switch on the turn indicator lever that is used to scroll up/down through the various service items.

See Fig. 9.

When the item to be reset is showing, press the BC button on end of turn indicator lever. "Reset" should now appear in the display. Press in and hold the BC button for 2-3 secs and a whirling clock icon will be displayed. The reset procedure for the selected service item is done.
Scroll up/down to select another item (as in step 4), or press the ignition start/stop button to exit.
BMW 2007-2019 Service Light Reset
Models With Condition Based Service (CBS) Interval System
On-the-vehicle service operations can be reset at the instrument panel.
NOTE: A reset is only possible in the car if:
There is no Check Control message
Availability of the service job is under 90%
On-board date must be correctly set
NOTE: Resetting of a service job must always be carried out after a maintenance measure has been completed.
IMPORTANT: If engine oil and vehicle check are reset at the same time, always reset engine oil first.
Switch the ignition on.
Press the odometer reset button (1) for approx. 10 seconds, until the 1st service job appears in the display (2). See Fig. 10.
Bring up the next item by briefly pressing the button again.
Select the desired service job.
If a reset is possible, this is displayed in the instrument panel as "Reset executable".
Start the reset by pressing the button for 3 seconds.
Confirm text message "Execute reset?" by pressing the button for 3 seconds again.
The status of the reset is indicated in the display by a progress bar and in text as "Reset running".
The reset is confirmed after completion as "Reset successful".
CBS Reset Using BMW Diagnosis System (Scan Tool)
IMPORTANT: Although the CBS maintenance jobs can be reset using in-car controls, it is recommended that the reset procedure be done via the diagnosis system. It is only possible to code the statutory intervals specific to individual countries with the diagnosis system.
IMPORTANT: To be able to check and/or correct the car's on-board date properly, the diagnosis system requires the correctly set tester system date. The jobs may only be reset after the service measure has been completed. The brake pads can only be reset with a new brake pad wear sensor.
The CBS jobs can be reset via the diagnosis system on the following path:
Start diagnosis
Carry out vehicle identification
Function selection
Service functions
Maintenance
CBS reset
These tutorial will work on the following BMW Car Models. 
BMW E30,BMW M3 E30 ,BMW Z1 ,BMW E31,BMW E32,BMW E34,BMW M5 E34 ,BMW E34 ,BMW E36,BMW M3 E36 ,BMW E36 ,E36/5 ,E36/7,BMW M Roadster E36/7 ,E36/8,BMW M Coupe E36/8 ,BMW E38 ,BMW E38/2 ,BMW E38/3 ,BMW E39,BMW M5 E39 ,BMW E39/2 ,BMW E46,BMW M3 E46 ,BMW E46 ,BMW E46/5 ,BMW E52 ,BMW E53 ,BMW E60,BMW M5 E60 ,BMW E61,BMW M5 E61 ,BMW E63,BMW M6 E63 ,BMW E64,BMW M6 E64 ,BMW E65 ,BMW E66 ,BMW E67 ,BMW E68 ,BMW E70,BMW X5 M ,BMW E71,BMW X6 M ,BMW E72 ,door,BMW E82,BMW 1M Coupe ,BMW E83 ,BMW E84 ,BMW E85,BMW M Roadster E85 ,BMW E86,BMW M Coupe E86 ,BMW E88 ,BMW E89 ,BMW E90,BMW M3 E90 ,BMW E91 ,BMW E92,BMW M3 E92 ,BMW E93,BMW M3 E93 ,BMW F01 ,BMW F02 ,BMW F03 ,BMW F04 ,BMW F06,BMW M6 F06 ,BMW F07 ,BMW F10,BMW M5 F10 ,BMW F11 ,BMW F12,BMW M6 F12 ,BMW F13,BMW M6 F13 ,BMW F15 ,BMW F16 ,BMW F18 ,BMW F22 ,BMW F23 ,BMW F25 ,BMW F26 ,BMW F30 ,BMW F31 ,BMW F32 ,BMW F33 ,BMW F34 ,BMW F35 ,BMW F36 ,BMW F45 ,BMW F46 ,BMW F47 ,BMW F48 ,BMW F49 ,BMW F52 ,BMW F80 ,BMW F82 ,BMW F83 ,BMW F85 ,BMW F86 ,BMW F87 ,BMW G01 ,BMW G02 ,BMW G05 ,BMW G06 ,BMW G07 ,BMW G11 ,BMW G12 ,BMW G20 ,BMW G21 ,BMW G22 ,BMW G23 ,BMW G24 ,BMW G26 ,BMW G30 ,BMW G90
That all! Thank you very much!