The MOST Effective Way to RECOVER Your Launch X431 User Account
Today I'll be teaching a new tutorial for the LAUNCH X431 Scanner. I will now demonstrate how to effectively retrieve your Launch X431 Username and password. I know a lot of Launch X431 users who tried to restore it using the forgot password feature on the APP but were unsuccessful.
Before we begin, please allow me to introduce myself. My name is Erwin Salarda, and I have been assisting Launch X431 users for the past 9 years. We are the Philippines' authorized Launch X431 dealer. I offer technical support to clients who purchased the Launch X431 from us. Please contact me for Product Inquiry at 0915

568 4578. 
Lets Begin the procedure to recover you Launch X431 User Account. This tutorial will be possible work to all Launch X431 Android base Scanner.
This guide may be applicable to the following Launch X431 products.
Launch X-431 PROS MINI
Launch X-431 Diagun IV
Launch X-431 V/V+
Launch X431 HTT
Launch X431 PRO 3S
Launch X431 PROS
Launch X431 PRO3
Launch X431 PRO
Launch X431 PRO MINI
Launch X431 PAD2
HOW TO RECOVER LAUNCH X431 USER ACCOUNT
REQUIREMENTS:
You must have your Lunch X431 serial number, which can be found on the back of your Launch X431 Tab and on the side of your Launch X431 DBSCAR Bluetooth.
You must have the right model of Launch X431 App. Please click here to DOWNLOAD.
Your Android device.
Internet Connection
STEP 1
Open the Launch X431 App. Then Select Login. 
STEP 2
Then click RETRIEVE PASSWORD. 
STEP 3
Then type only the SERIAL NUMBER of your scanner, then wait a second until the username and email address will displayed on the screen.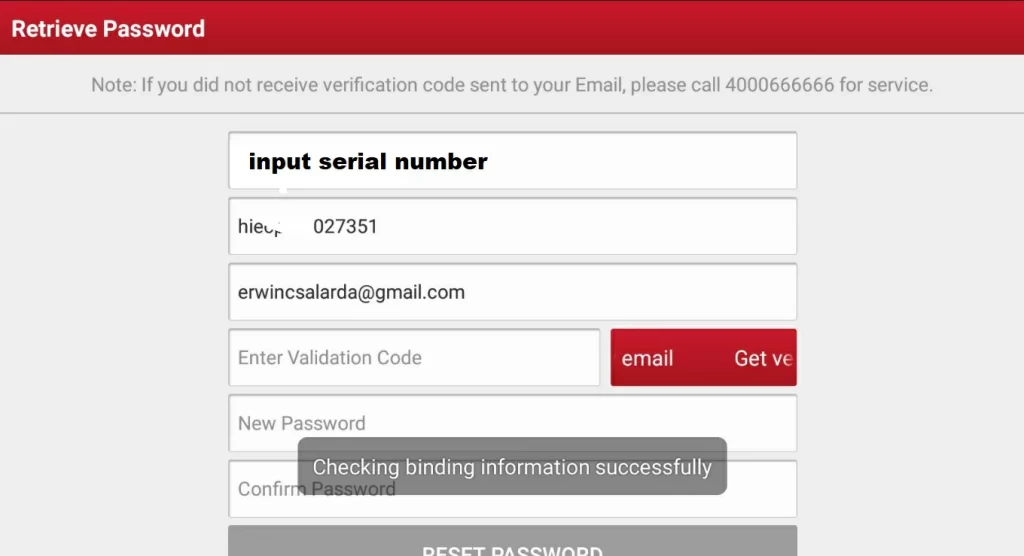 STEP 4
After the binding information successfully, the username and email address will be displayed on the screen.  Now type the NEW PASSWORD and CONFIRM PASSWORD, after that Click the GET VERIFICATION VIA EMAIL. In this case the verification code will be sent to the REGISTERED email.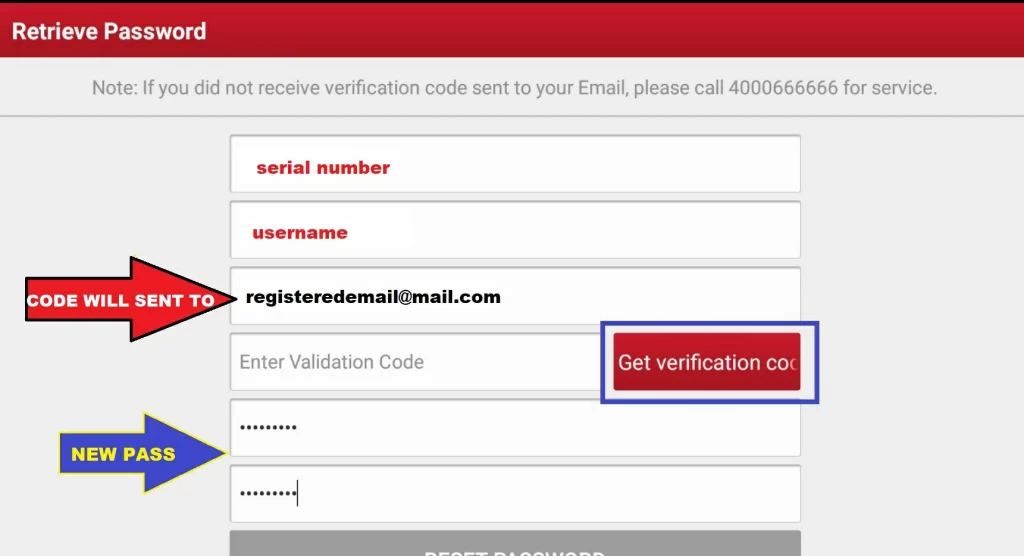 STEP 5
There will be a countdown before receiving the email verification code after you click the GET VERIFICATION CODE button.
STEP 6
Visit to your email and get the VERIFICATION CODE. 2204 is my verification code.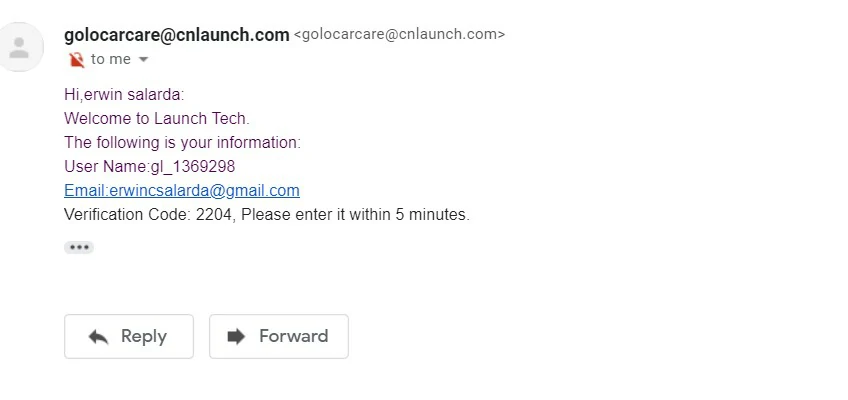 STEP 7
Type the VERIFICATION CODE then click RESET PASSWORD.
STEP 8
Password is now SUCCESSFULLY RESET.
STEP 9
You can now login your new account on your scanner. Enjoy!!!
ARE YOU STILL HAVING A PROBLEM?
Question 1
When I select software update after logging in to my account, there is no car available and the screen goes blank.Answer: If you follow my instructions above, it's possible that you're using an outdated or incorrect application for your serial number, which is why there's no car. Follow this tutorial to download the Updated and right APPLICATION FOR YOUR SERIAL NUMBER: https://erwinsalarda.com/how-to-transfer-launch-x431-scanner-to-other-android-device/
Question 2
I changed my password successfully, but I am still unable to access my account.ANSWER: This tutorial is most effective way to recover the Launch X431 account, because this is the common problem, after you change your password you still cant login your account, I will tell you now how to solve this problem.
You are using the incorrect application; you must download the appropriate application for your scanner. Do not attempt to recover your account using the incorrect APPPLICATION. If you have a Launch X431 Pro scanner, you can recover your account by using the Launch X431 Pro software; otherwise, you won't be able to recover it. Check here our list of Launch X431 Application: https://erwinsalarda.com/download-launch-x431-apk-software-for-android/  https://erwinsalarda.com/download-launch-x431-v-5-android-apk-software/    https://erwinsalarda.com/launch-x431-5c-apk-software-download/
Please follow this tutorial to verify if you have successfully change your account. https://erwinsalarda.com/how-to-transfer-launch-x431-scanner-to-other-android-device/

Before attempting to retrieve your account, please update your Scanner Application to the most recent version. You won't be able to recover it otherwise. There is a popup that reminds you to update your scanner's application, but if you can't see it. You may locate it in your scanner's SETTINGS – ABOUT menu.
Question 3
I am not the registered email address's owner: ANSWER: You can contact the registered email address to see if he can assist you with account recovery, or you can contact your Launch X431 Dealer. RECOMMENDATION: Do not buy the Launch X431 Scanner online; instead, go to your country's local dealer.
IMPORTANT UPDATE FOR THIS TUTORIAL
I have the most recent update right now, and we have a client who has forgotten his password, so I tried to recover it using this guide, but unfortunately, I was unable, then I looked for another method to recover his account, and eventually I was successful in recovering his account.
TIPS 1: When you try to recover your account, use the latest version of Launch X431 pro3 APK, even that your  Scanner is V series, 5C or Pro Series. In my Experience you can recover successfully your account using the pro3 software. Download Software here: Look for PRO3-S install and update.
TIPS 2: Make sure you can input the verification code before the count down end. see STEP 7.
I will keep this site updated with any modifications or issues that I get or encounter. -Thank you -Erwin